Transfer files, not germs
3 August 2021
Latest modification: 3 August 2021
---
Wilk Elektronik SA, the owner of the GOODRAM computer memory brand, is launching USB UME CARE - a portable memory stick with antibacterial housing. The promotion campaign for the new product is advertised under the slogan 'Transfer files, not germs'.
The latest USB stick is another product in the popular UME USB memory line. After the biodegradable UME ECO FRIENDLY, winner of the must have prize awarded by the jury of the Łódź Design Festival, another USB model, which offers additional value besides just data storage, joins the line. Thanks to the Biomaster technology, silver ions with germicidal properties have been added to the UME CARE housing. After 24 hours, 99% of microorganisms on the surface of the device are killed. The product is a response to society's growing awareness and demand for safe and hygienic products in everyday life as well as in the office sphere.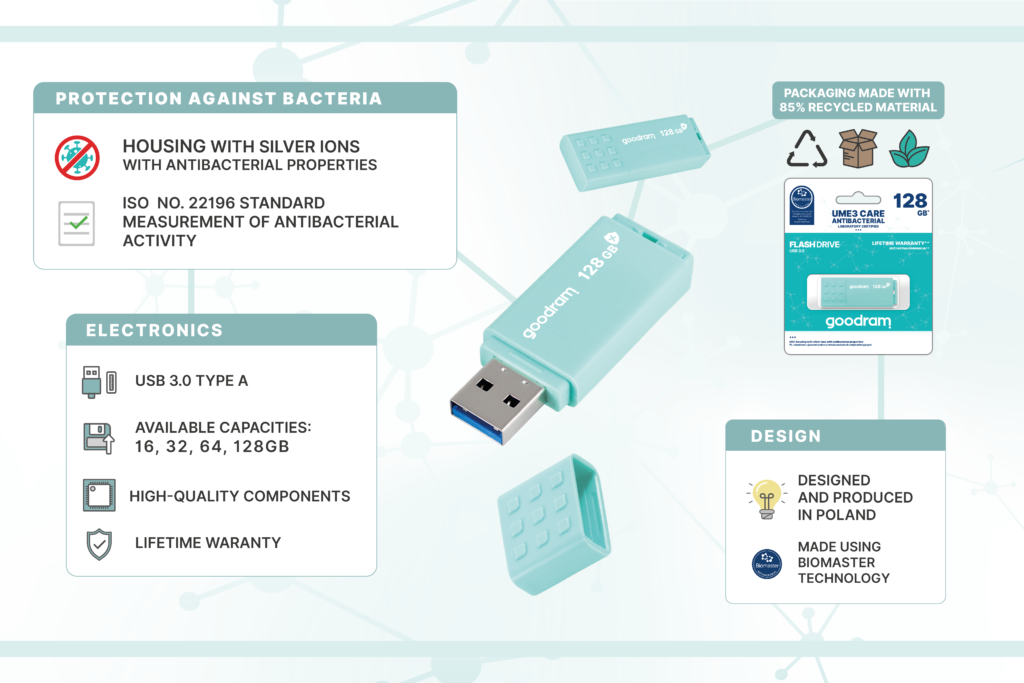 "We wanted to create a tool that promotes a safe working environment in the office, but also in the living space. Small everyday objects, such as a mobile phone, a keyboard, or office equipment, are some of the biggest breeding grounds for bacteria, and the contact of skin with a contaminated item  is one of the most common routes of microbial transmission. Each of us touches many dirty objects on a daily basis, afterwards we repeatedly touch our face, mouth, nose, or eyes, and these are a great portal of entry for germs. In order to minimize the risk of spreading germs, it is necessary, apart from maintaining hygiene, to take care of the working environment. It is also worth taking advantage of the latest technology and antibacterial properties offered, for example by the silver ions used in the UME CARE housing". – Wiesław Wilk, President of Wilk Elektronik SA, emphasizes. The antibacterial features of the housing have been proven by laboratory tests commissioned by the manufacturer. This means that UME CARE is compliant with the ISO 22196 standard. It should be noted that the USB flash drive retains its antibacterial properties permanently. Consequently, the product is completely protected against bacteria throughout the entire period of use. What is more, the device is defined by very good product specifications, which are also characteristic of the previous models of the UME family. The product is available in capacities of 16, 32, 64, and 128 GB with USB 3.0 (3.1 gen. 1) interface. The USB drive's read speed is up to 60MB/s with write speed of up to 20MB/s.
Wilk Elektronik is a Polish manufacturer of computer memory, owner of the GOODRAM brand, as well as the only manufacturer of consumer RAM memory modules in Europe. Founded in 1991 in Tychy, the company has 30 years of experience in the computer components market, working initially as a distributor and currently as a manufacturer of memory modules. Wilk Elektronik specializes in the production of USB flash drives, Flash memory cards, memory modules, SSD drives, including industrial memory. The company employs 190 workers and its head office is located in Łaziska Górne. The success of the Polish company, both on the domestic and export market, can be attributed to a team of professionals, as well as a modern factory equipped with 400 test platforms, an environmental chamber for industrial solutions, and one of the most modern SMT lines in Europe. For more information please visit www.goodram.com