IRDM M2AA – app-friendly microCARD
17 August 2021
Latest modification: 26 August 2021
---
Wilk Elektronik, the manufacturer of GOODRAM and IRDM brands, presents the fastest micro memory card in its offer - IRDM M2AA V30 A2.
Modern image recording devices, such as drones, sports cameras, video recorders, and surveillance cameras have become a common solution in business and everyday life. Their parameters allow to record more and more high quality data. Although these devices often do not have a large internal storage space, it is possible to expand it with an additional flash memory card. Therefore, it is extremely important to choose the right memory card for those appliances. Only a properly selected memory card will allow to fully use all of the capabilities of a mobile device, video recorder, or sports camera.
The second more and more common application of the memory card is its use in mobile devices like tablets and smartphones with Android system. A suitable microSD card can successfully serve as an internal memory extension not only to store data such as photos or music but also to download and use mobile applications. The applications themselves, despite their low storage requirements, often consist of hundreds of pictures, sounds, and animations. Therefore, their proper installation and running requires using a dedicated Flash memory card, which, thanks to its performance, will be able to "handle" many reading processes simultaneously.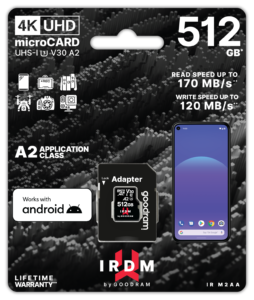 The manufacturer of IRDM brand has introduced the fastest IRDM M2AA microCARD in its offer exactly for the users of these modern solutions.
Thanks to Application Performance Class 2 (A2), it is possible to install multimedia and smartphone applications on the card. The Performance Class of a memory card is defined in IOPS value and in case of A2 parameter it is 4000 IOPS (read) and 2000 IOPS (write).
Apart from high computing power, IRDM M2AA card guarantees above-average performance of up to 170MB/s (read speed) and 120MB/s (write speed) and a capacity of up to 512GB. The card meets the requirements of Video Speed Class V30. Consequently, it provides the highest efficiency and reliability, including video recording in slow motion and 4K resolution, or working with fast burst modes.
The IRDM M2AA card, as well as other Flash memory cards offered by GOODRAM and IRDM is covered by the manufacturer's lifetime warranty.