Eco-friendly flash drive by GOODRAM
26 October 2020
Latest modification: 26 October 2020
---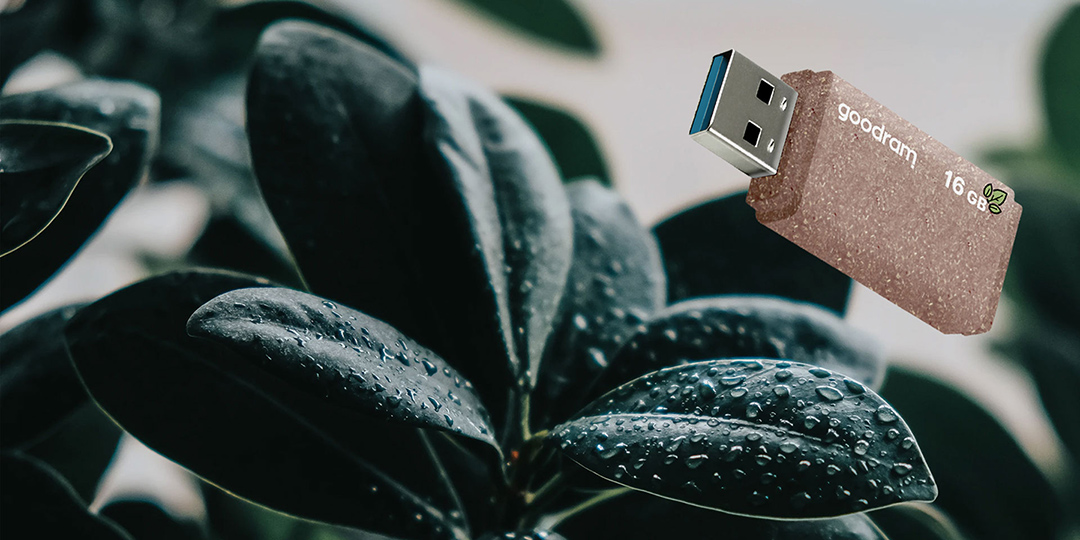 Consumer electronics is one of the segments of which consumers pay special attention to whether a product is good for the environment or not.
According to the Green Generation 2020 report, electronics ranks in a high fourth place when answering the question "Buying which products do you look for eco-label?". The top three are food products, cosmetics and products for children, those are the industries where ecology has been a key topic for consumers for many years already.
Considering the environment and answering our consumers' expectations we have introduced a new USB to the product offer, UME Eco Friendly, expanding our existing UME series of flash drives. Eco Friendly is put in a biodegradable housing, 100% made of degradable materials, which decompose in home composting environment. Of course, after the memory product will be no longer useful due to many years of work.
What stands behind releasing an eco-friendly USB?
This is a solution to everyone believing that every initiative, even a small one, taken to improve our better living and cleaner environment is worth trying. Even though the technological progress keeps us involved in using many electronic devices.
The global pandemia made many of us even more eco-aware. We try to adapt the terms such as eco, bio and zero waste into our everyday living. It has much to do with spending longer time at homes and even working from home. When organizing work spaces many people take into account waste segregation, unplugging laptops and using the embedded battery, unplugging mobile phones when not necessary, welcoming flowers and other green stuff, which can lower the CO2 in their rooms and looking for eco-friendly electronics and accessories.
UME Eco Friendly flash drive should be interesting to anyone, who:
Is a gadget fan
Prefers to have a data backup for every day work
Wants to keep their greatest memory in a file
Is keen on buying environment-friendly products
Looks after the well-being of their family and friends
Likes accessories and gifts
Fine price – fine environment – this is a value that most consumers appreciate
But why would you need a USB these days?
We are afraid of the cloud! Despite having cloud systems more popular and trusted, still so many people are afraid they can lose important files due to some bugs, errors or someone's attack. According to IBM report:
51% of people being asked about the cloud wonder if their data might be looked through without their knowledge
49% – is scared that an authorized person is going to get the access to their data
Remote flash drivers are the answer to everyone having similar concerns. Using a USB as a simple backup of the most important files make everyone much more relaxed and calm. Thanks to the highest quality of components, GOODRAM branded flash drives passes tests in everyday life as much as in preserving most valuable files and memories.
Protect against data loss – save double with UME Eco Friendly