Together we create memory! Celebrate Goodram's anniversary with us
20 September 2023
Latest modification: 20 September 2023
---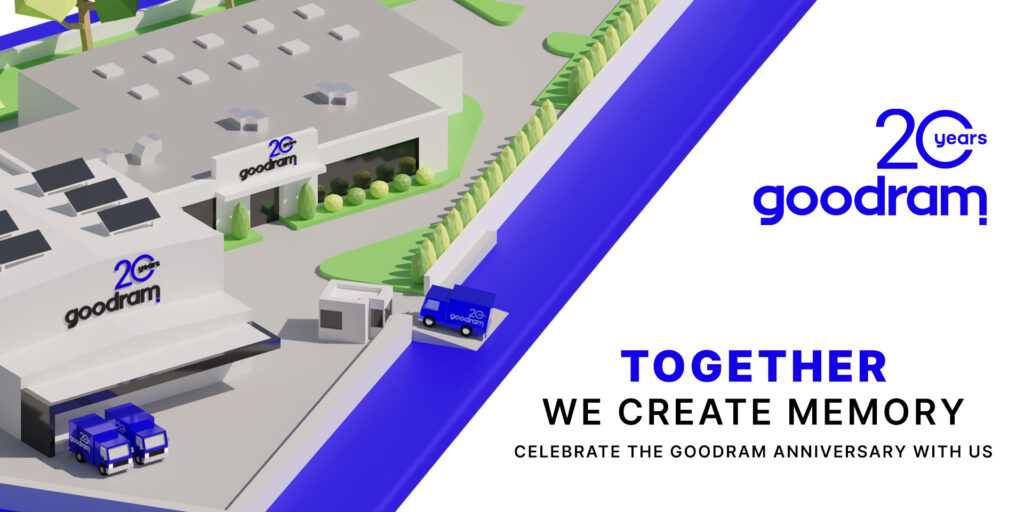 Goodram is celebrating its 20th birthday this year. The Polish computer memory brand from Łaziska Górne in Silesia has been supplying reliable and user-valued DRAM modules, SSDs, memory cards and USB media since 2003.
The history of Polish memory products dates back to 1991, when Wilk Elektronik SA, the company to which the Goodram brand belongs, started its operations. Initially, the offer focused on the distribution of DRAM memory modules. It soon expanded to include Flash cards and USB flash drives, and with the development of new technologies, also SSDs.
On the occasion of the anniversary, it is impossible not to mention the key moments in Goodram's history that significantly influenced the shape of the products, as well as the expansion of the brand, which has been going beyond the European market for many years.
One of the most important turning points was the establishment of a close technological partnership with global semiconductor giant Kioxia (until 2019 Toshiba Memory). This strategic partnership enabled the Polish brand to include the aforementioned Flash solutions in its portfolio. The growth of the product range and expansion into further export markets triggered the need for further development and capacity expansion.
In 2013, Wilk Elektronik invested more than €1 million in the development of an SMT surface mount line, thereby increasing the efficiency, production precision and quality of Goodram memory.
Currently, Wilk Elektronik is finalising the expansion of Europe's only computer memory factory, which began in 2021. The gigantic investment included the expansion of the company's entire infrastructure – from the warehouse, production and office space to new technology and information flow solutions.
Goodram offers solutions not only for home and office applications, but also high-tech industrial or server memories. This would not be possible if it were not for specialised staff, state-of-the-art machinery, as well as strict control of finished products. More than 500 test platforms make it possible to validate all the memories produced at Łaziska, which undeniably distinguishes the Polish manufacturer from its Far Eastern competitors.
We would like to thank the users of our products, fans of the brand, customers, business partners and employees for two decades of support, cooperation and trust, which have made us the leader in the field of memory in Poland. It is thanks to you that we deliver the highest quality products, grow and strive for excellence. Thank you for being with us for years and accompanying us on this wonderful journey!
20 years have passed, but there are still many more achievements, innovative products and working together to cement the Goodram brand as a leader in the computer memory market! Thanks to you, we are confident that our future will be as exciting as all the years we have enjoyed together.
We invite you to celebrate our anniversary together. Follow our website and social media!
The Goodram team