IRDM, a Polish brand of memory for gamers and enthusiasts, will present its solutions at IFA trade fair in Berlin
19 July 2022
Latest modification: 19 July 2022
---
The IRDM brand, owned by Wilk Elektronik SA, Polish manufacturer of computer memory, will present its products at the IFA fair in Berlin. Guests at the stand will be able to see, among others, the latest products dedicated to gamers, enthusiasts and professionals. These will be DRAM modules, SSDs and Flash memory.
After a two-year break caused by the Covid-19 pandemic, exhibitors return to the IFA in Berlin, where from September 2nd to 6th, they will present the latest products and innovations in the field of consumer electronics. IFA is one of the few trade events that bring international exhibitors every year and attracts the attention of the media and visitors from over 130 countries. IFA is the main meeting place for key retailers, producers, buyers, industry and media experts. This year, exhibitors will occupy over 30 exhibition halls and several special expositions on the historic exhibition grounds in the heart of Berlin.
"IFA is one of the most important trade fair events in our calendar. This is an ideal opportunity to present our premieres and products to a wide audience, including industry specialists. During the IFA fair, we will present the leading IRDM brand products, also new products such as white IRDM DDR4 RGB modules, SSD IRDM Ultimate PCIe gen. 5, as well as the long-awaited DDR5 modules. In addition to the standard DDR5 memory, enthusiasts will also find something for themselves. It is for them that we are working on the RGB version of DDR5 memory modules," announces Wiesław Wilk, CEO of Wilk Elektronik SA.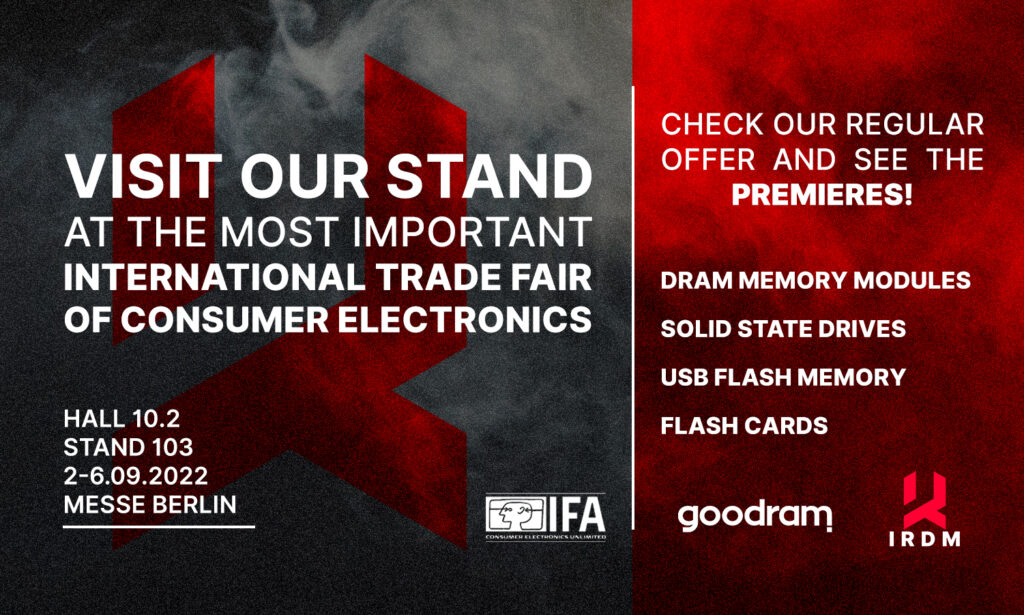 The announcement of new products is great news for fans of the brand not only in Poland, but also in Europe. The premiere of the latest generation DDR5 modules, which are still a great novelty on the market, promises to be definitely interesting. IRDM will also present existing solutions from its portfolio, including SSDs in M.2 and SATA formats, DRAM modules and memory cards. Part of the product exhibition will be devoted to the Goodram brand which has been owned and manufactured by Wilk Elektronik SA since 2003.
IRDM is the line of memory for professionals, gamers and enthusiasts. The products of this brand are dedicated to all those who need the highest quality products to carry out their work or hobby – both in terms of efficiency and durability, reliability and workmanship. Potential recipients of the brand's products include professional photographers, engineers, programmers, filmmakers, extreme sports, video games, esports and modding enthusiasts.
At IFA, the IRDM stand will be located at number 103 in hall 10.2. The event will take place at Messe Berlin from September 2-6.