Generace DDR5 – vše, co potřebujete vědět
29 srpna 2023
Poslední změna: 6 listopadu 2023
---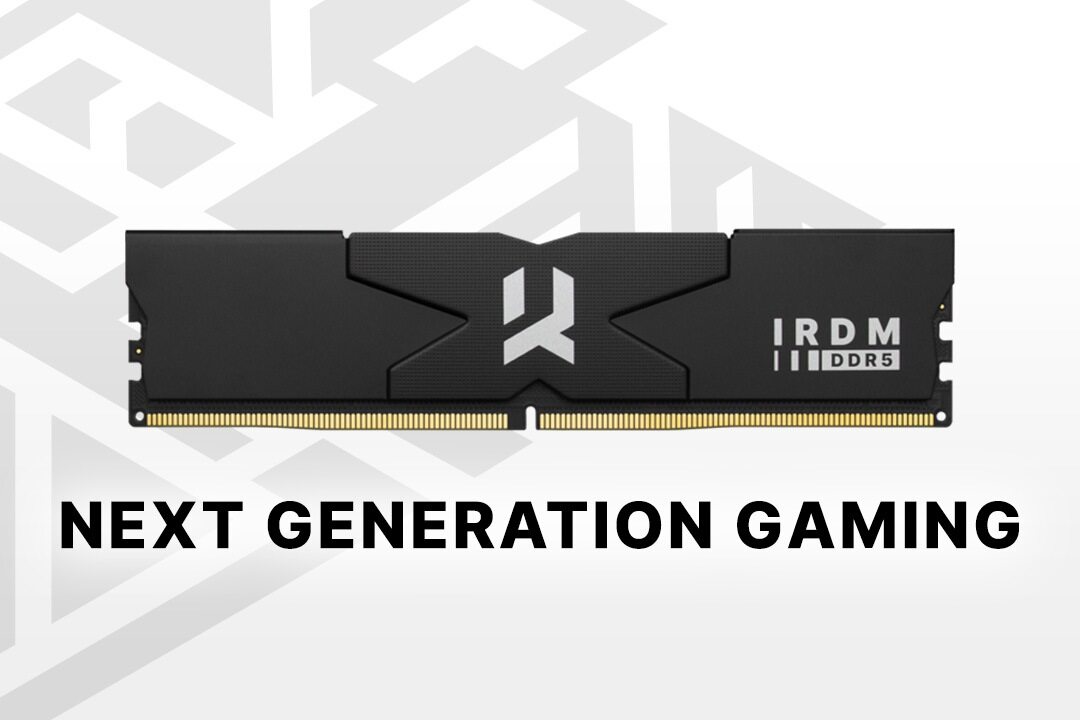 IRDM DDR5
Potenciál nejnovější generace modulů DDR5 ocení hráči, hráči elektronických sportů, grafici, tvůrci obsahu a profesionálové pracující s velkými datovými sadami. Moduly DDR5 jako nástupce pamětí DDR4 přinášejí do světa technologií řadu inovací, které jsou zaměřeny na zvýšení výkonu, šířky pásma a zlepšení stability celého počítače.
IRDM DDR5 je nová generace pamětí RAM, která nabízí výrazné zvýšení výkonu oproti předchozím standardům. V tomto materiálu se dozvíte, proč je technologie DDR5 tak důležitá, jaké jsou hlavní vlastnosti této generace modulů a jaké výhody může uživateli přinést.
Šířka pásma
První a nejvýznamnější vlastností modulů IRDM DDR5 je výrazné zvýšení šířky pásma ve srovnání s DDR4. Díky vyššímu taktování a širší šířce pásma je paměť DDR5 schopna zpracovat více informací za kratší dobu. To znamená rychlejší načítání aplikací, plynulejší chod her a vyšší výkon a odezvu celého systému.
Energetická účinnost
Paměťové moduly páté generace byly navrženy s ohledem na úsporu energie. Díky nové technologii mohou paměti IRDM DDR5 pracovat při nižším napětí, což vede k nižší spotřebě energie. V kombinaci s vysokým výkonem to znamená rozhodně efektivnější provoz. Hovoříme zde až o 30 % nižší spotřebě energie.
Budoucnost
IRDM DDR5 jsou navrženy s ohledem na budoucnost. Přestože rychlosti a kapacity v současné době převyšují požadavky většiny aplikací, paměti IRDM DDR5 budou i v příštích letech výkonné, a to i přes nárůst požadavků na hry a aplikace. Nejnovější generace umožňuje vytvářet moduly s kapacitou až 64 GB.
Kompatibilita
Před nákupem modulů IRDM DDR5 je vhodné zkontrolovat, zda vaše základní deska a procesor podporují nejnovější generaci paměti RAM. Pokud chcete využít výkon modulů IRDM DDR5, je nutné si pořídit správné počítačové komponenty, které podporují paměti DDR5. Všechny nejoblíbenější základní desky jsou plně kompatibilní s moduly nové řady IRDM.
Závěr
IRDM DDR5 je nejmodernější řešení, které nabízí výrazné zlepšení šířky pásma, výkonu a energetické účinnosti. Díky vyšším taktovacím frekvencím, větším kapacitám a nejnovějším technologiím mohou uživatelé využívat rychlejší a svižnější provoz svých počítačů. Před nákupem modulů IRDM DDR5 si nezapomeňte ověřit kompatibilitu svého zařízení, abyste mohli plně využívat výhod nejnovějšího paměťového standardu.
Pokud se chcete o produktu dozvědět více, navštivte naše webové stránky Goodram.